Candice Stevens
"Finding a personal trainer can be difficult. To find a personal trainer who gets you, and one that you can connect with because she's walked the very same journey you're about to embark on, and who knows the struggles, is rare! But guess what…with God's leading, I found her!
As a current client of Unique Physique Health, I would like to assure whomever is reading this that, Courtney is the absolute best personal trainer I have worked with. Whether you are bulking up or slimming down, trying to improve your health or just improve your strength, Courtney has the background, experience and the commitment to help you succeed.
She has turned my "cannots" into "cans" because she doesn't believe in giving UP and will make sure that you don't either. She has pushed me further than I thought I could go, and shown me that I can reach my physical goals if my mind wants it bad enough.
This journey is not an easy one. You're going to have UPs and downs BUT Courtney will be with you every step of the way. Believe me when I say that she understands. Why? Because she's walked every gruelling step of this journey personally. Courtney not only understands the science of personal training; she also understands the science of motivation. When you feel like you can't keep going, Courtney will get you there.
No matter what your fitness goals are, I am certain that Courtney will be more than able to help you get there. Joining Unique Physique Health has been one of the best decisions I've made and Courtney, I am forever grateful!
---
Melanie Meiring
"Last year during lock down, I had picked up quite a bit of weight which made me feel uncomfortable. I
was looking around for places or diets to see what I could do to help me loose the weight. I came across
Courtney on Facebook and started following her. When I contacted, her she was very helpful and
offered me fantastic advice and we started out our journey in her little gym at her home. What seemed
like a very hard journey for me at the time, the motivation and pep talks from Courtney, helped me to
carry on.
Due to me being high risk, I had requested from Courtney for us to do online Gym and she has been very
accommodating with my schedule. At times, I have felt like giving up but knowing I have a session with
Courtney helps me to carry on and hit my day.
Despite my journey being a bit slow and every day not the same. I must say the one thing I am happy
about is that I am not where I used to be a year ago, feeling overweight and with no energy. And I can
now do Burpees with ease 😉 Every day is a journey and is different but the only way to keep this lifestyle
journey is to take it one day at a time and not be so hard on yourself and this I have learnt from
Courtney".
---
Roleen Figueira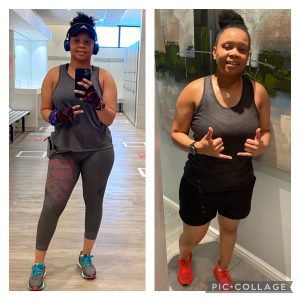 "Let me start by saying Courtney came onto my radar mid 2020🙊 and I finally took the plunge to joined Unique Physique at the end of October 2020.
Right away she took me under her wing. Her professionalism, passion and love for what she does shines through…she always leads from the front!
One thing I had to teach myself was to start afresh – a blank slate…like a brand new hard drive ready to absorb all the information provided. I've learnt so much about nutrition and food that I constantly avoided – because thinking it was bad for me. I finally understand the calories in vs calories out model🙊
On this journey with Coach (like I call her and many other names that won't be mentioned🤐) I continue to learn so many things…but here are some things that stands out for the most for me:
Self-love – she taught me to start loving myself gave me tools i.e. I had "homework" everyday (I discovered there's absolutely nothing wrong with loving yourself);
Confidence – and boy oh boy did I lack thereof…now I can stand UP tall and say I'm not where I use to be, I'm gaining my confidence each day, I'm a WIP(work in progress);
"it's ok to not to be ok – as long as you keep moving and getting UP";
how she pushes me not only physically which is awesome but mentally too, which I feel is much more important because if your mindset is not right your body doesn't follow – you learn to look UP.
With every training session I moan and groan 😮‍💨 I huff and I puff oh and let's not forget all the French words with prayers in between and all I hear in the background is Coach pushing me: "come on CONTRACT THAT CORE🤯" but nothing beats that feeling of lifting heavier, jumping higher, doing an extra rep, having your beast mode on, completing your sets. She's tough on you but only because she knows you can do more.
Learn to let go of all the doubt and negativity that holds you bondage. Never give UP – put the past behind you and live in the moment.
One day after training I had the confidence to express myself like never before (as shown in pic) and I knew right then, that I came to the right place (UP), and have made the best choice.
I enjoy my time at UNIQUE PHYSIQUE HEALTH, each day is different and so unpredictable – it has changed my life in so many ways all for the better! I get reminded to accept and to celebrate the victories especially the small ones. Progress is progress…strive to be 1% better than yesterday.
I'm becoming the best version of myself and each day I am more comfortable in my own skin all thanks to Coach
Unique Physique Health changes lives…
Trust the process. We don't break we bend!
I often remind myself: the BEST PROJECT YOU'LL EVER WORK ON IS YOU".
---
Kathy Laten
When I joined Unique Physique Health mid January 2021, I had just turned 60 years old. I felt uncomfortable and overweight and needed to change. Finding Unique Physique Health has been life changing. I never expected to see such drastic physical changes within 3 months after joining.  I have regained my confidence and overall strength. My energy has most definitely increased.Courtney (Fitness Trainer) has not only inspired me, she has motivated me to keep going and guided me in improving my Nutrition.
---
Zani Diwet
"If you are ready to transform yourself on your journey to health and fitness, this is the person you want in your corner. Courtney at Unique Physique is an amazing coach who knows how to push you according to your potential. Her passion for what she does shines through and she leads by example. Workouts never get boring and the one on one time is invaluable". 
---